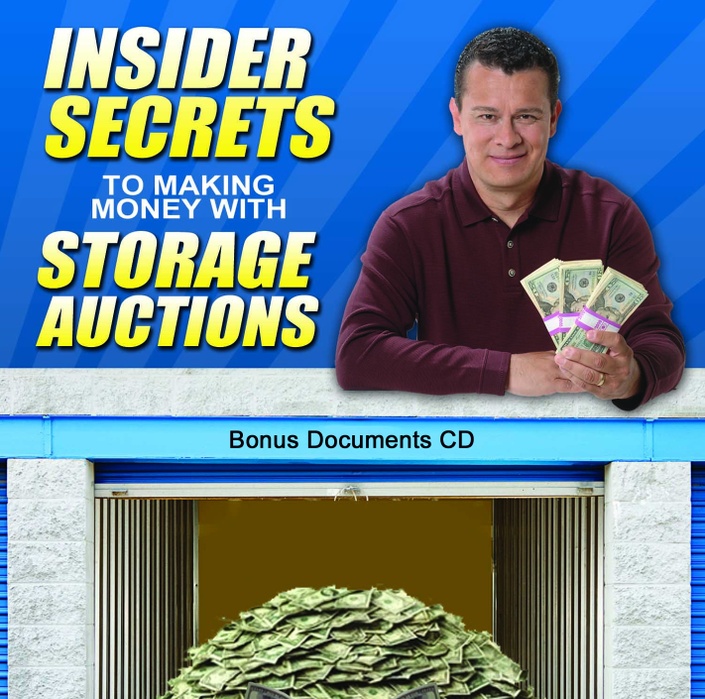 Insider Secrets To Making Money With Storage Auctions
A Complete, Comprehensive System For Finding Storage Auction Treasures!
Veteran Storage Auction Buyer Finally Reveals:
How to make $5,000 to $10,000 a month
with storage auctions by turning a few bucks
into many thousands of dollars
just like the guys on the hit TV show
...but even BETTER!
If you want to get into the hugely profitable Storage Auctions game and you want to discover how to easily make thousands a month part-time with storage auctions, then you've come to the right place!
My name is Dave Espino and I am a Nationally-recognized eBay expert.
(You may have seen my eBay infomercial on TV – I've been helping people make money on eBay for over 15 years straight!)
And today, I'd like to share with you my latest, BRAND-NEW video training that will show you how to make FAST and REAL money by getting valuable merchandise for PENNIES ON THE DOLLAR and resell it for thousands of dollars a month - part-time!
A Different Way To Make Money...
One That Is A TON OF FUN!
Well, let me tell you about a money-making strategy that is a little different…
In fact, it's like one giant treasure hunt and if you take the time to learn it, you will be all set with a new way to make money – a new income that you control - for life.
I have been using this killer strategy to buy high-profit eBay, Amazon and Craigslist merchandise at below-wholesale for over 11 years now and it is one of the "funnest" and most exciting ways to make money that I've ever seen.
It's called buying at Storage Auctions!
This is me, inside the very first storage unit I purchased at auction, 11 years ago!
(I turned a $700 investment into $4,600!)
I've been buying at storage auctions and teaching my platinum coaching students these techniques for over 11 years!
If you're one of the 5.1 MILLION people who've seen "Storage Wars" (on A&E)
or "Auction Hunters" (on Spike TV) every week,
then you already know a little bit about this business...
But if the only exposure to storage auctions is what you've seen on TV, then there's a LOT you DON'T know if you want to make tons of money with storage auctions!
My video course shows you EXACTLY what you need to know to make BIG MONEY with Storage Auctions.
And, if you've never seen these two shows, then let me clue you in on what you've been missing!
Basics Of How A Storage Auction Works...
Throughout the US and Canada, there are tens of thousands of self-storage facilities.
(This is where you go and store all your "stuff" that doesn't fit in your home)
These storage "units" are rented on a monthly basis and the units come in all sizes – from small 4' x 6' "cubbies" to giant 10' x 30' rooms.
All types of people rent these storage units:
The person who just has some "overflow" items that don't fit in their home anymore (most common)
The person who owns a business and keeps her inventory there
The person who stashed a bunch of high-value collectibles and then unfortunately passed away, leaving an abandoned storage unit because nobody knew about it
The person who runs a contracting business and keeps his tools in there
The sportsman whose favorite sport takes up too much room at home, so they needed to rent a storage space
The person who was getting heat from the neighbors about his "classic car project" and decided to rent a place to store his classic car
Now, if the person fails to pay his rent, (after a certain amount of time) the storage facility has the legal right to auction off the contents of the unit so that they can regain possession of their unit and re-rent it again.
When the storage facility holds an auction of these units, the bidders can get ahold of some AMAZING merchandise, often for pennies on the dollar.
Amazing Storage Auction Finds!
For example, recently a winning storage auction bidder found a copy of the very first Superman comic book – Action Comics #1. Because of its condition, it is valued at $1 million!
(In fact, it was originally owned by Nicolas Cage)
Another amazing storage auction find is a 1966 Shelby Mustang in great condition which was found in a storage unit, underneath some other items. This Shelby is worth about $150,000 in its current condition!
And, did you hear about Madonna's items that were found in a former assistant's storage unit that was auctioned?
Yes, the winning bidder paid only $150 for that unit and wound up turning these collectibles into over $100,000!
Now, those are the exciting stories of course, and to be fair, they are rare and not likely to happen to you or me, but what if your storage unit find was worth a tenth of these numbers?
One of my eBay students
bought a storage unit for $200
and inside, he found a box with...
$7,000 in COLD, HARD CASH!
Another one of my students found a classic, vintage jukebox worth $11,000
in her VERY FIRST AUCTION BUY!
Here's a bit of her testimonial:
"Hi Dave!
...The first two auctions I attended were small and I didn't win anything. The next day, my husband went with me to a storage unit auction where we found out there was a large unit up for auction and inside was a '87 Ford Bronco and lots of other stuff...
...Once we started pulling out boxes and looking through stuff, I felt much better. We had hit the JACKPOT!
The Bronco was an Eddie Bauer edition! We found new in box items, Native American Indian decor, jewelry, six handguns, a mounted deer and buffalo head, an Antique Juke Box, a bear rug, a roll away Craftsman toolbox full of tools and many items that are still brand new (unopened) in the box!
There was so much stuff, I can't remember everything."
~ Jeremy & Keziah Ford
As it turns out, the Antique Jukebox that Jeremy and Keziah found was a 1961 AMI Continental. Keziah found out that this exact jukebox sold elsewhere for $11,000!
I've consistently turned a few hundred dollars into many thousands of dollars with the storage units that I've bought and I've been buying at Storage Auctions for over 11 years now.
Through the course of those years in the business, I have developed an entire SYSTEM that makes me money with storage auctions – every time!
That brings up another key point I want to make about Storage Auctions:
Do It Right!
Don't Gamble On Storage Units!
You don't have to be a gambler to make money with storage auctions.
In fact, I'm going to show you how to only take "calculated risks" when you buy storage units at auction.
And I'll go one better than that...
I'll actually show you
HOW TO PREDICT A WINNING UNIT,
even before you attend the auction and
EVEN BEFORE YOU SEE WHAT'S INSIDE!
So, let me tell you what you're going to get in my brand new video course:
My new video course is called:
Insider Secrets To

Making Money

With

Storage Auctions

The Auction Hunter's Guide To Winning The Storage Wars
In my new Storage Auctions Training SYSTEM,
you get tons of high-quality video training:
Video 1 – Introduction To The Storage Auction Game

In this video, you'll discover what storage auctions are and how you can make GREAT money by choosing the right units to buy.

Video 2 – Preparing For Storage Auction Success

Every business has its tools and resources that you need to have in order to make the most money.

In this video, you'll discover what to bring, what to expect, and how to deal with the other bidders, as well as how to maximize your profit WHEN YOU BUY!

Video 3 – Your Treasure Map – 8 Ways To Find Storage Auctions

So, how do you find the storage auctions in your city, county or State?

In this video, I reveal 8 DIFFERENT WAYS to find storage auctions in your area - problem solved!

Video 4 – How To Spot High-Profit Storage Units

In this video, I tell you exactly what to look for when you're profiling a unit.

You'll know exactly how to make a ton of money by following these simple instructions.

While others are busy buying "junk units", you will be profiling and snapping up the MONEY-MAKING UNITS!

Video 5 – How To Use A Winning Bidding Strategy

Your bidding strategy can make all the difference in whether you win, lose or draw.

In this video, I show you how to develop your own successful bidding strategy.

By having the right bidding strategy and playing the game correctly, you will know EXACTLY HOW TO WIN!

Video 6 – Going Once, Going Twice – SOLD! What To Do After You Win

Congratulations! You won the auction!

Now let me show you how to quickly and easily research & determine the value of all the items you've just won!

(Often, you can sell just a few of the most valuable items in the unit WITHIN DAYS and EASILY recoup your investment - all the rest is "profit gravy"!)

Video 7 – How To Squeeze The Most Profit Out Of Every Item You Sell!

IN video 7, I show you my "Pyramid Of Value" concept.

This is how I decide on the BEST way to make the most money from each item!

I'll even show you how you can have other people sell your items on eBay FOR YOU, so you can focus on theMONEY MAKING activities!

Video 8 – How To GO BIG In The Storage Auction Game

Ready to take it to the next level?

In this video, I show you my GO BIG ACTION PLAN - it's my step-by-step game plan for taking your storage auctions business to a HUGE LEVEL and how you could make a six-figure income with your storage auctions business!



And with your order today,
you will also receive the following 3 BONUS VIDEOS!
Bonus Video 1 – How A Little Detective Work (Before You Go To The Auctions) Can Generate BIG PROFITS!

In this bonus video, I show you how to make BIG PROFITS by doing a little bit of research before you even go to the auction.

This is a proven way to generate higher profits from your storage auction buys!

Bonus Video 2 – Understanding The Legal Steps BEFORE The Storage Auction

In this bonus video, I walk you through the steps a storage facility MUST TAKE before they hold an auction.

Bonus Video 3 – Cool Storage Auction Finds

Some amazing items have been found in Storage Auctions, including:

§A 1 Million dollar Superman comic book that belonged to Nicolas Cage

§A 1966 Shelby Mustang worth $150,000

§A storage unit filled with pop star Madonna's memorabilia – worth over $100,000

§Whitney Houston's storage unit went up for auction containing hundreds of thousands of dollars worth of items

§Paris Hilton's items (from a storage auction) sold for $10 million!

In this video I walk you through the stories behind some of these amazing finds – and more!
This amazing course is made up of
more than 4 hours of solid, real-world video training
that will have you making money with storage auctions FAST!
And, I'm also going to throw in a couple of AWESOME RESOURCE PDFs!
With your order today, you will also receive the following additional bonuses:
Bonus Document #1

How To Determine The Age Of An Antique / Collectible

This bonus is a PDF document that shows you how to accurately determine the date of an antique or collectible.

Knowing this is CRITICAL to determining the overall profits you're going to make!

Bonus Document #2 - # 51

Storage Lien Sales Laws For All 50 States

This bonus includes 50 PDFs which have the latest Storage Auction Lien Sales laws for every State in the Nation!
Let Me Summarize Everything You Get In This Amazing Storage Auctions Video Course:
8 Videos that reveal how to go from a complete NEWBIE to a top Professional Storage Auction Buyer! You'll discover everything you need to know to make a GREAT income with Storage Auctions!
3 Bonus Videos, including a KILLER ADVANCED STRATEGY to get an edge over your competition!
52 Bonus Documents, including the Storage Auction laws for every state!
A 30-day, no-questions-asked, money back guarantee!
Order Now - Begin Watching The Videos In Minutes!
How much would you expect to pay to sit down with me and receive one-on-one Storage Auctions training for 4 1/2 hours?

(Well, I don't actually do one-on-one coaching anymore, but if I did, I would be charging $500 an hour)
At that rate, you would have to pay $2,250 to get your hands on this valuable training (and it would be a BARGAIN because you could easily make back that investment in your first storage auction buy)
But you won't have to pay
$2,250...
You won't have to pay 1 /10 of that:
$225...
In fact, I understand that your time and your money is valuable and I want to be sure everyone has a chance to get a GREAT DEAL on this brand-new video course!
So, for a very limited time, I am offering all this valuable video training for the
RIDICULOUSLY LOW, PRICE
of only
$17
You know, part of being a success in the Storage Auction business is being able to see value where no one else sees it - but sometimes, the value is right there, clear as day! This is one of those times)
Bottom line, you will not find a more complete course on making money with Storage Auctions, ANYWHERE!
30-Day Money Back Guarantee
Insider Secrets To Making Money With Storage Auctions
is backed by my 100%, 30-day guarantee:
I want you to be thrilled with your purchase!
The bottom line? The concepts inside will MAKE YOU MONEY!
If you are not satisfied with this Storage Auctions video training system -for whatever reason - simply request a refund within 30 days and I will immediately and courteously issue you a 100% refund of your investment.
Only $17
Five Good Reasons To Buy
1. You can benefit from my 11 years of REAL-WORLD experience in making fast cash with Storage Auctions...
2. You'll discover how to use Storage Auctions to develop an ongoing flow of HIGH-PROFIT products to sell via eBay, Amazon and Craigslist...
3. My advanced strategy (in bonus video 1) alone can give you a HUGE edge over the competition and make you a TON OF MONEY
4. Your tiny investment in this course can make you thousands. However, NOT investing in this course could LOSE you thousands.
5. 60-day, no-questions-asked, money back guarantee.
You have nothing to lose - I'm taking all the risk because I believe that you will love this proven system and make money with it...
ORDER NOW!