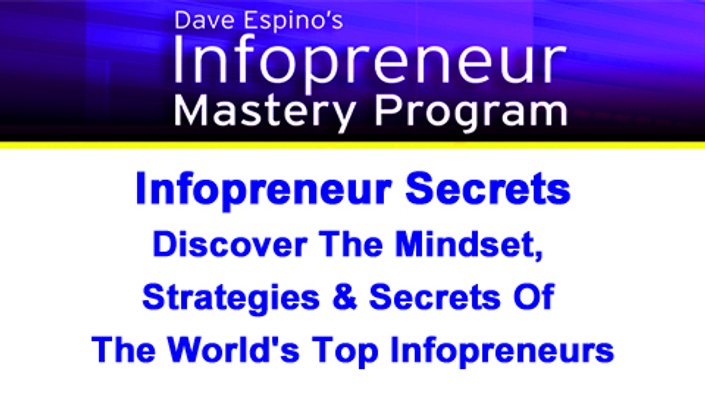 Infopreneur Secrets - Discover The Mindset, Strategies & Secrets Of The World's Top Infopreneurs
The Top Legends Of Information Product Marketing Reveal All!
If you are interested in generating your very own passive income...
If you are convinced that info-product marketing is your ticket to a massive, passive income...
If you've ever wanted to have some one-on-one time with some of the top information marketing legends in the world...
Then you're in for a treat!
That's because I have interviewed some of the top information marketers in the world and have gotten them to reveal their secrets to success!
And I'm not just talking about their strategies and what they do in their day-to-day business processes, but I'm also talking about getting into how they think - their mindset, which is even more valuable than the "how to"!
Just take a look at who you will be learning from:
Yanik Silver is a serial entrepreneur. Starting from his one-bedroom apartment and with just a few hundred dollars, Yanik has built several 7-figure businesses.
He is the author, co-author or publisher of several best-selling marketing books and tools including "Moonlighting on the Internet", "Instant Sales Letters" & "34 Rules for Maverick Entrepreneurs".
Yanik is a highly sought-after speaker, addressing groups ranging from the prestigious Wharton Business School to international audiences of 3,000+.
Joseph Sugarman is Chairman of JS&A Group, Inc. and BluBlocker Corporation, among others.
His company, JS&A Group, Inc., introduced dozens of new innovations and concepts in electronics during the '70s including the pocket calculator, the digital watch, cordless telephones, computers and a variety of other items. Each product was introduced through full-page ads in major publications, which became the recognized signature of his creative work. He wrote then and still writes all of his own advertising copy for both print and TV.
In 1973, Sugarman's company was the first in the United States to use the 800 Number to take credit card orders over the phone – something direct marketers had never done before.
In 1986, JS&A changed its marketing focus and started selling his line of BluBlocker® sunglasses, which were sold in direct mailings, mail order ads, catalogs and on TV, through infomercials, TV spots and QVC, selling over 20 million pairs over the past 27 years.
Sugarman has also completed three marketing books, based on what he taught at his exclusive seminars: "Advertising Secrets of the Written Word", "Marketing Secrets of a Mail Order Maverick" and "Television Secrets for Marketing Success".
Jim is ranked among the top 2 most trusted Internet Marketers in the world (among hundreds of 'experts') according to watch dog service Internet Marketing Report Card.
He has been selling on eBay and the Internet since 1997 and advising clients along the way. He's sold or helped his clients sell multiple millions of dollars of products and services online since 2000. His ideas have helped everyone from stay home entrepreneurs seeking to start successful eBay and online businesses to large corporate clients seeking to use the Internet as a creative marketing tool.
He has appeared in the Wall Street Journal, Entrepreneur Magazine, Men's Health magazine, eBay radio, and in countless news and radio programs as an Internet and online business expert.
He's probably best known for his all time best selling ebook titled "The Silent Sales Machine" now in its seventh update and re-release, as well as his two membership sites at OfflineBiz.com and MySilentTeam.com.
Over 10,000 Internet entrepreneurs consider Jim's two membership sites at MySilentTeam.com and OfflineBiz.com to be their premier source of advice, training and community online.
Jonathan Sprinkles delivers straight talk, 'sprinkled' with laughs.
He is a television personality, featured columnist, author of 10 books, and a leading authority on Connection strategies for leaders and achievers.
Jonathan's tips on connecting in business and in relationships have been featured on ABC, Fox news, Headline News, Glamour.com, The Huffington Post and USA Today.
Jonathan was voted Houston Business Journal's "40 under 40" for being one of the top entrepreneurs in America's fourth largest city. He has also been voted National Speaker of the Year (APCA), Marketer of the Year (JMI), and Mentor of the Year (Disney) – four times!
Jonathan's high-energy presentations go against the grain of traditional thinking that sounds good, but no longer works in the new economy and its new requirements. Jonathan Sprinkles' life is one that we can all celebrate as proof that success isn't about where you start, but where you choose to finish!
Dave Espino is a lifelong entrepreneur, having owned his own business for over 30 years.
In 2001, Dave created his first Information product. His eBook, titled "Beyond eBay" showed readers how to use a powerful strategy that had dramatically increased his eBay sales. Dave was fortunate to turn that eBook into a $3000 monthly residual income.
In 2002, Dave was approached by an Infomercial production company because they were looking for an eBay expert to feature on their next Infomercial. Out of over 110 eBay experts, Dave was chosen for the Infomercial.
Dave's "Auctions For Income" infomercial was seen by millions of Americans and Dave went on to sell more than 300,000 copies of his eBay system on TV and generated over 140 million dollars in sales over the course of 11 years… becoming one of the longest-running business infomercials in history.
Along the way, Dave has owned as many as 30 websites, each selling its own unique Info-product.
Eric Holmlund is an Internet marketer who has made millions of dollars in the process of marketing a variety of products online, including his own products.
He began dabbling in Internet marketing in 1999, and has been doing it full time since 2003. Eric started the business with about $40, and grew it into a seven-figure business, while working from home with no employees.
He has outsourced parts of the business, and parts of it run largely on autopilot, which gives Eric the flexibility to take vacations, participate in mission trips, and enjoy his family.
Some of Eric's online business specialties include list-building, copywriting, joint ventures, and product launches. He has had twenty-six product launches that have each generated over six figures of income in their opening weeks. He is also knowledgeable in affiliate marketing, having earned over a million dollars of affiliate commissions.
Dr. Mike Woo-Ming is an in-demand internet business consultant and entrepreneur.
Once working a full-time income as a Mayo Clinic trained physician, Dr. Mike built a passive income by starting his own internet business while still maintaining a 60 hour work week. His companies have created over 100 information products in the last few years and maintains a successful info-product business that started from his bedroom.
An expert in lead generation, he has personally generated over 700,000 leads in 11 different markets. Dr. Mike consults regularly with million dollar companies in the corporate world, while still traveling around the world to sold-out workshops helping small business owners and solo entrepreneurs attain their own financial success.
You may have never heard of James Malinchak, but he's "One of the Most Requested Business & Motivational Speakers in the World" and has delivered over 2,000 presentations for business groups, corporations, colleges & universities and youth organizations worldwide for audiences of as many as 6,000 people.
James Malinchak is a true American Success Story who is featured on the Hit Primetime Reality ABC TV Show, "SECRET MILLIONAIRE" and gave away $100,000+ of his own money on the show.
Known worldwide as the "Big Money Speaker®", James is recognized as "The World's #1 Big Money Speaker® Trainer & Coach" for anyone who wants to Get Highly Paid As a Speaker.
James is also one of the most in-demand, highest-paid business marketing coaches in the world, with fees ranging from $15,000 – $100,000.
James also works with numerous celebrities, professional sports coaches and athletes.
Because of his success as a paid speaker, numerous aspiring, beginning & experienced speakers sought James out to teach them….so James created what is now called, "The World's #1 BIG MONEY SPEAKER TRAINING!"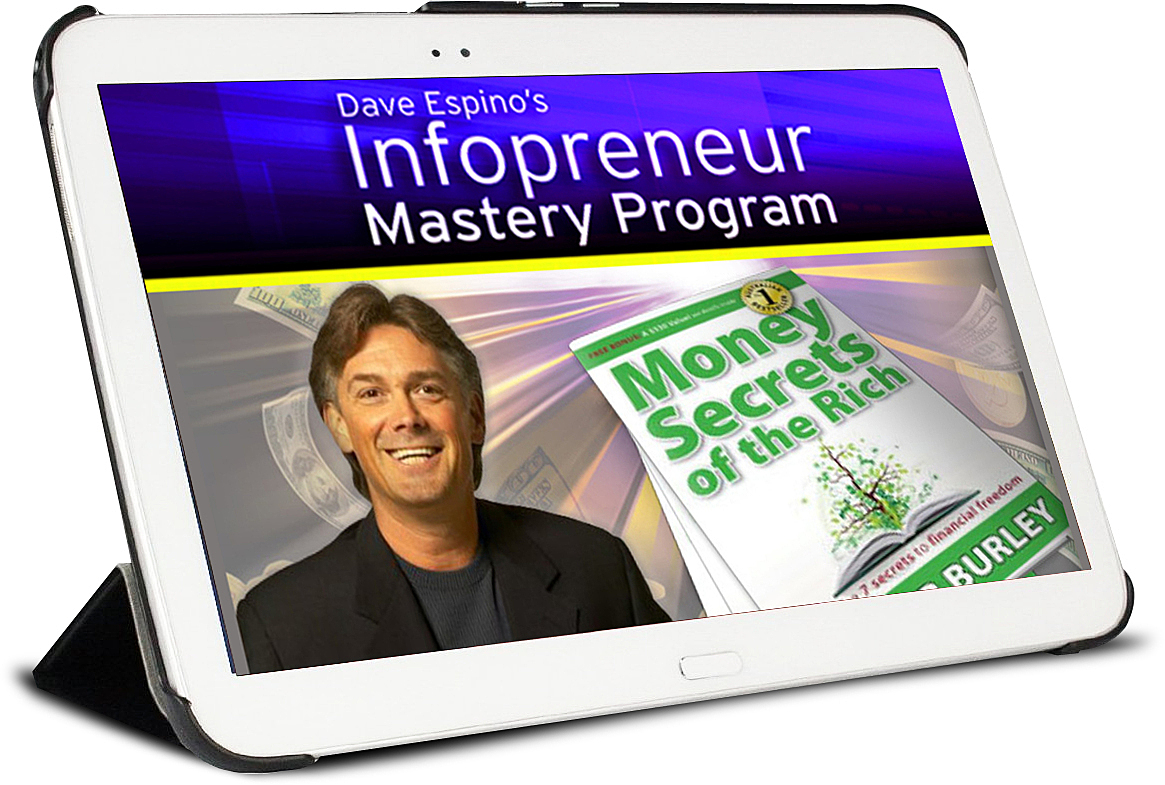 When industry leaders like Robert Kiyosaki, Tony Robbins, and Donald Trump need a no-nonsense, in-the-trenches financial and real estate wizard, they go to John Burley.
With more than 1,400 completed real estate deals and a portfolio which includes property, stocks, and businesses, John has the perfect mix of street-savvy knowledge and sound investing principles.
With a workable plan of action and tons of desire, he used principles of cash flow to build his business and his personal wealth. In fact, by the time he was 32, he realized he could retire and live the easy life…
But John grew restless and began creating seminars and products describing his strategies, systems, and techniques. Because of his action-oriented work teaching the exact step-by-step formula he uses, people like Donald Trump, Robert Kiyosaki, T. Harve Ecker and Tony Robbins have invited him to speak in front of millions at their workshops.
Because John is a professional investor, he makes his living actually doing deals and not just teaching theory from the stage. The bottom line is: John walks his talk. For this reason, John rarely appears at events or seminars these days.
For the past several years, Tom Collins was a Vice President of PMI, a $175 MIL Direct Marketing company, and helped start, launch, build or re-build four of their multi-million dollar divisions. (one was an INC 500 company, #2 on the list)
Tom has had the luxury of rubbing shoulders and running campaigns; front end, back-end, coaching, teleseminars, email campaigns, continuity programs and more, for some of the biggest direct marketers you know, and some you don't know.
Almost all of them run 8-figure+ businesses, with very few employees and incredible profits.
For the past two decades, Dr. Danny Brassell has served as an educational advisor to students, ranging from preschoolers to rocket scientists.
While he has held a variety of titles and worked with leaders from a variety of fields and disciplines, Danny has always considered himself first and foremost a teacher.
A recognized authority on leadership development, motivation and communication skills, Danny has been honored consistently for his strategic intellect and practical solutions.
Audiences rave about Danny's ability to deliver meaningful and memorable messages that are applicable for individuals within all levels of organizations.
A gregarious, sought-after author, speaker and business consultant, Danny is characterized by friends, colleagues and clients as one of the most insightful, powerful and compassionate individuals in business today.
Thousands, from small business owners to corporate executives, have enjoyed his energetic, interactive and informative presentations.
Enroll today and get all of these downloadable interviews, so you can learn from the best!
Your Instructor
Dave's mission is simple: to make a difference in your life by helping you succeed in your own home based business.
Dave started with a goal of helping hundreds of thousands of people start their own business - and he achieved that goal in 2006, as the sales of his internet / ecommerce products soared past the 300,000 unit mark and many hundreds of six-figure income student success stories started pouring in.
You'll enjoy Dave's lively and encouraging teaching style, which gets right to the point and walks you, step-by-step through his strategies. His many 5 star course reviews and student satisfaction ratings reflect this.
Dave Espino has been marketing online since 1999, when he wrote his first ebook and built a direct-response website to market it.
Having owned over 30 websites, and marketed across just about every platform, (online, offline, TV, etc.) Dave is the best person to teach you how to succeed with marketing - online marketing, copywriting and other legitimate ways to make money from home.
A proud member of Udemy's Instructor Council, (with 26 Udemy courses published to date) Dave has been teaching marketing via live seminars and webinars since 2000, and then through digital products and training courses since 2001. (many of which are now updated and available right here, on Udemy!)
Dave has been seen by millions across America on his TV show, which has been seen on CNBC, Fox Business, Discovery Channel, History Channel, Travel Channel and most other major cable networks.
With over $140 million of his information products sold via TV and Online, Dave Espino is a marketing expert, speaker and author who can help you reach your business and marketing goals.
Course Curriculum
Interviews With Top Infopreneurs
Available in days
days after you enroll
Frequently Asked Questions
When does the course start and finish?
The course starts now and never ends! It is a completely self-paced online course - you decide when you start and when you finish.
How long do I have access to the course?
How does lifetime access sound? After enrolling, you have unlimited access to this course for as long as you like - across any and all devices you own.
What if I am unhappy with the course?
We would never want you to be unhappy! If you are unsatisfied with your purchase, contact us in the first 30 days and we will give you a full refund.